How To Find Bed Bug Heat Treatment Experts?
Bed bugs can be a severe and costly problem for homeowners. One of the best methods for eliminating bed bugs is heat treatment, which qualified professionals must carry out.
Finding professional heat therapy for bed bugs is intimidating, particularly if you need help finding what to look for. It would be best to ensure that the person you hire meets all the necessary qualifications, such as licensing and certifications. You also want to find someone who has experience dealing with bed bugs and can provide quality service.
Using high temperatures to kill bed bugs is a technique for bed insect extermination. This type of extermination is becoming increasingly popular as it is more effective than traditional chemical treatments and does not involve harsh chemicals. The process involves heating the entire area and being treated to an average temperature of at least 120 F (50 C) for several hours, killing adult bed bugs and their eggs. The heat penetrates walls, furniture, electronics, and other hard-to-reach areas to eliminate all bed bugs.
If you have a bed bug infestation, hiring the right professionals for the task is crucial, as this type of treatment necessitates specialized tools and knowledge to be adequately handled. When searching for qualified professionals to address your treatment process, look for certified technicians knowledgeable about the latest bed bug treatments and technologies and with experience exterminating bedbugs safely. Additionally, ensure they have a valid operating license from your local government or state authority.
Advantages of Using Heat Treatment for Bed Bugs
The bed bug is one of the most tenacious pests that can infect your home and be difficult to eliminate. However, this treatment is an effective and environmentally-friendly way to stop them. These are the advantages of using this method for bed bugs.
1. Eradicates all Stages of Bed Bugs.
Using heat to treat bed bugs is one of the most effective methods, as it eradicates all stages, from eggs to adults. The thermal treatment reaches the hard-to-reach cracks and crevices, eliminating any chance for bed bugs to survive.
2. Ease of Use
It requires no harsh chemicals, making it safer for your family, pets, and home environment. It is also quick; depending on the size of your space, it usually takes 1-2 days, and if done correctly, it doesn't call for additional treatments or specialty cleaners.
3. Cost Savings
It often becomes more cost-efficient in the long run than other treatments, such as chemical sprays. This is because, with chemical treatments, you may have to buy additional products or repeat the same process multiple times before eliminating your bed bugs problem.
Tips for Finding the Best Expert for Your Needs
Whether you need a professional for home repairs or to provide specialized services, finding the right expert for your needs can be daunting. However, there are specific tips you can follow to simplify the process and ensure you make the best choice. These are the tips for finding the best expert for your needs.
1. Research Their Reputation
Research and find out what other people say about the company you're considering. Look for reviews from past customers and see what their experiences were like. Is the company reliable? Do their services work? These are essential questions to ask yourself before hiring a particular expert.
2. Check Their Experience Level
Make sure that the bed bug exterminator you hire has extensive experience in dealing with bed bugs, as this will increase your chances of getting rid of the infestation. Experienced experts know how to identify potential trouble spots quickly and can also provide helpful advice on preventing future infestations.
3. Ask About Other Methods They Offer
Ask the extermination experts what methods they use to treat bed bugs, such as steam or chemical treatments. Experienced professionals should be able to explain their reasoning and provide an expert explanation of why they recommend specific methods over others. Ensuring the company is up-to-date on industry standards and follows safety protocols for workers and customers is essential.
Questions to Ask Prospective Professionals
When searching for bed bug extermination experts, asking a few questions before committing is necessary. Here are some key questions to consider:
1. What are the expected results of the treatment?
Please inquire about the professional's strategy for eradicating bed bugs and the procedures to ensure they are all gone.
2. How long will the treatment take?
This is important as it can help you determine whether or not the professional can complete the job within your desired timeframe.
3. Are there any possible health hazards connected to the treatment?
Some treatments involve pesticides, which can be hazardous if people and animals inhale or consume them. Be sure to ask about potential health risks before proceeding with the job.
4. Are there any guarantees or warranties in place?
Most professionals should offer security against future infestations – ask about these before deciding.
By asking these questions beforehand, you can ensure that you choose a knowledgeable and reliable expert, providing you with peace of mind when it comes to eliminating your bed bug problem.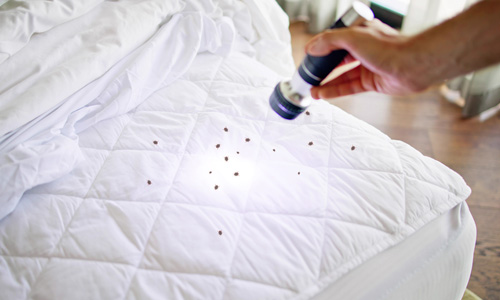 Qualities of Heat Treatment Bed Bug Specialist
When it comes to removing bed bugs, finding a specialist with the right skills and experience is essential. Specific characteristics that set a suitable bed bug expert for this method apart from rivals in the field are necessary. An expert in bed bug elimination should have these characteristics.
1. Certification and Licensing.
Before entrusting your bed bug exterminator needs to any company, ensure they are appropriately certified and licensed. You'll want to ensure the company knows and complies with local regulations and safety standards for using the treatment equipment.
2. Experience
When researching companies, always ask about their level of experience working with bed bugs. Ensure the organization has sufficient knowledge of the bed bug lifecycle, the most effective ways to eradicate it, and that its experts have received proper training in this method for killing bed bugs.
3. Reputation
It would be best to always research a company's reputation before hiring them. Check out online reviews and ratings from reliable sources, such as the Better Business Bureau, industry rating organizations, or testimonials from former clients who have used their services. You may choose who to trust with your bed bug extermination needs now that you have all this information.
Heat Treatment Specialists Found!
To sum up, if you're worried about bed bugs in your home or business, you must seek help from a trained expert in this method for bed bug elimination. With the proper knowledge, tools, and experience, they can provide a safe and effective way to eliminate bed bug infestations. When researching and choosing a bed bug exterminator, inquire about licensing, years of experience, and certification.
It's also essential to gather reliable references and reviews and read their online reviews. You will want to find a professional you feel comfortable with who can make the process as easy and stress-free as possible. Your home or business will be in good hands with a company specializing in this treatment for bed bugs, giving you peace of mind that your bed insect problem will be handled.